Survey Junkie Ratings
Pros
Membership to Survey Junkie is free.
User interface is simple and does not require any special skills
Multiple options for paying its members
Payout threshold is low
Cons
Survey Junkie is location dependent
There are mounting complaints of random closure of member accounts without notification
Number of surveys available may be limiting at times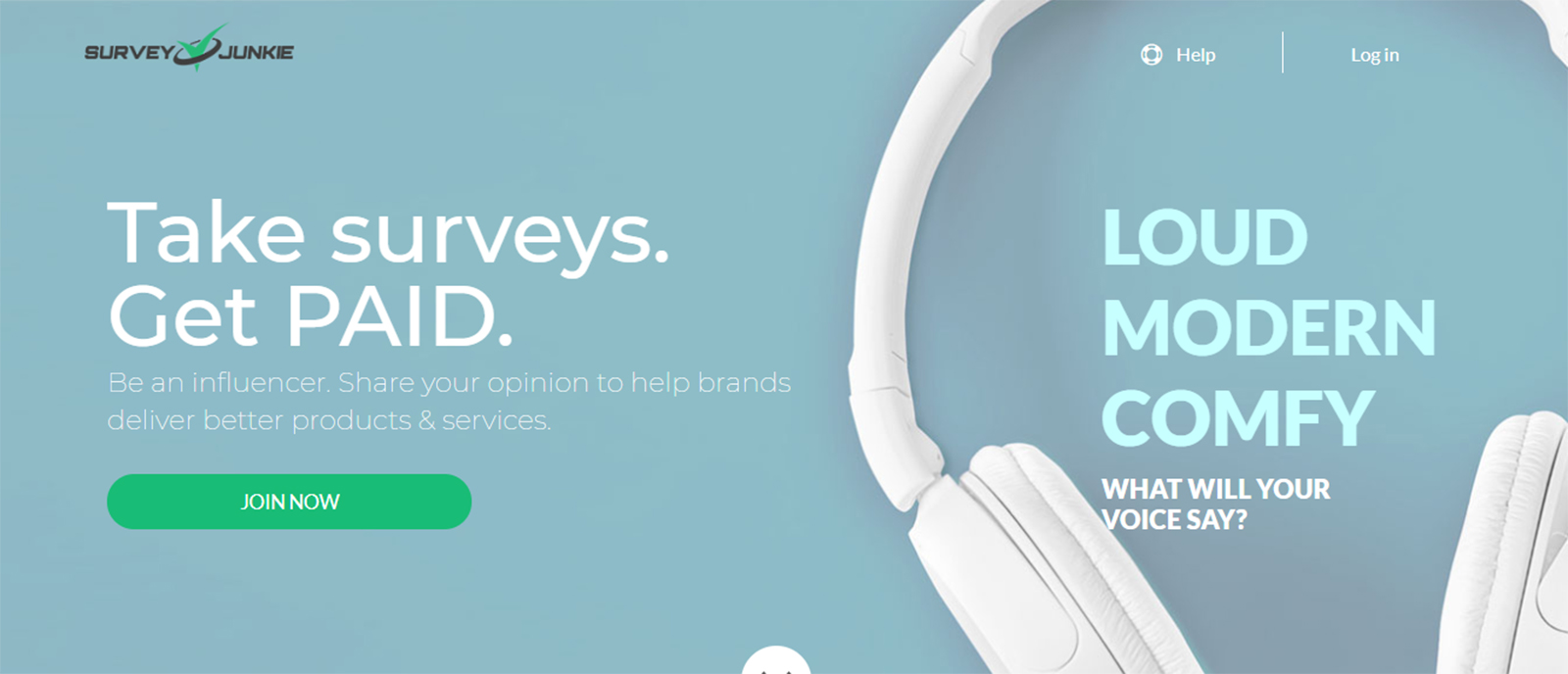 Your Trusted Survey Junkie Review
Do you know that you can earn money while working from home? Would you like your opinion to influence how a product is made for the better? Are there brands of products that you hold dear to your heart? In this Survey Junkie review, I will be discussing all you need to know about Survey Junkie.
Truth is; if you are a stay at home kind of person, this experience is not new to you. With a computer and internet connectivity at your disposal, searching for opportunities online becomes inevitable.
Making money online is an aspiration many people have but do not know how to go about it. Attempts to find the ideal way of making extra cash online has had many people conned through scams. Rummaging through tons of information online to find a legit online engagement for making extra cash is no mean feat. Truth be told; there are legit online opportunities for making extra cash.
Generally, taking surveys is one of the quick and easy ways to make money online. Because survey companies are all over seeking opinions from customers on certain brands of products. Once you share your opinion, it helps the company to launch better products or make enhancements to the existing one. Welcome to the world of Survey Junkie.
This Survey Junkie review will provide you with all that you need to know about Survey Junkie.
Here is the table of content:
What is Survey Junkie?
Who is Survey Junkie meant for?
The benefits of using Survey Junkie
The pros of Survey Junkie
The cons of Survey Junkie
What support system does Survey Junkie provide?
What training or tutorial does Survey Junkie provide?
Testimonials or what customers are saying about Survey Junkie
Conclusion
What is Survey Junkie?
Survey Junkie is a research company for the market that helps businesses get thoughts of consumers aimed at improving their products and service levels. The end game is to end up with a happy and satisfied customer for the product under review. In everyday language, it is market research where manufacturers of products seek to understand what their current and potential consumers want. Survey Junkie undertakes the job, and that is where you come in; to voice your opinion on the product—communication between consumers and a product brand is thus facilitated.
The company was founded in 2011 and currently has more than four million members as we found out and we will be discussing in this Survey Junkie review. That is a significant number cashing in through online opportunities.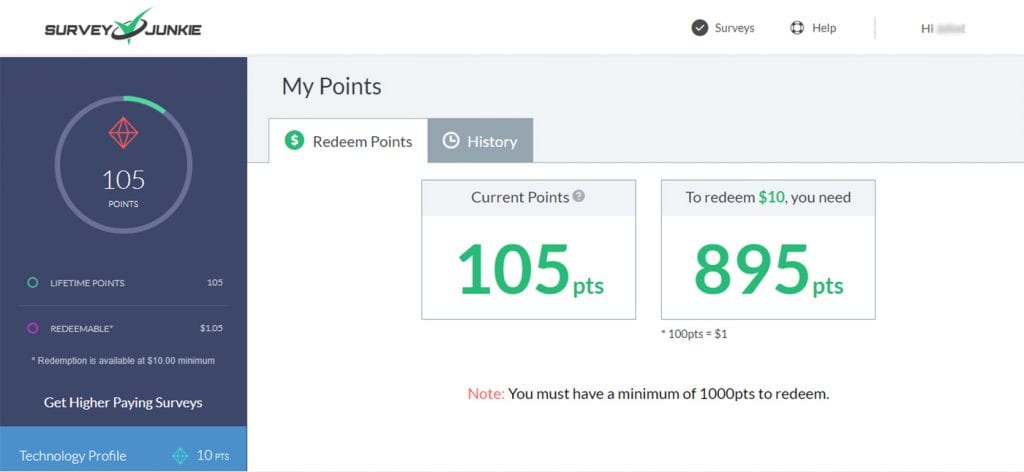 Who is Survey Junkie meant for?
Survey Junkie is for you if you are above the age of 18 years and looking to make some partial income online through paid surveys. Besides, you must be a resident of specific countries such as Canada, Australia, and the USA. This Survey Junkie review will be honest with you; online surveys are yet to make anyone rich. If you are looking for a get rich quick scheme, Survey Junkie is not for you.
Besides, you need to understand a range of products that you will review through online surveys. The essence is to help companies launch better products or improve existing ones for customer satisfaction. It is an ideal product if you like to do online surveys and give your honest opinion about a brand. Is Survey Junkie a scam? The question is common among prospective users of the product. This Survey Junkie review confirms that it is legit.
The benefits of using Survey Junkie
The benefits of using a product is a concern that you can't wish away. You are entitled to know the benefits attributed to it. Below are some of the benefits of using Survey Junkie.
You will be able to make partial income with Survey Junkie. You get paid when you do the online surveys about different brands. As this Survey Junkie review earlier stated, it is not the sort of money that will make you rich. At best, it will just compliment your other sources of income. For your point of information, some surveys go for as low as ten cents and probably a high of $ 3.
Additionally, there is the satisfaction that comes in realizing that your opinion counted through the survey. You may find a future product having incorporated your input in a bid to serve customers better. Isn't that self-satisfying?
Besides, there is no limit to how many surveys you can undertake if you qualify. There are more than enough surveys to participate. You can share your opinions on as many brands that you are eligible for hence boosting your income chances.
Back to the question of legitimacy, the product is legit and verified. You are, therefore, dealing with a trustworthy company that has been around for almost a decade.
The pros of Survey Junkie
What does this Survey Junkie review fancy about the company and its duty in carrying out online surveys? Below are the advantages:
Membership to Survey Junkie is free. You will not incur any expense in joining the program. Free membership is not familiar with many survey sites.
The design of Survey Junkie takes consideration of usability. The user interface is simple and does not require any special skills. Lack of experience from other survey sites is not a hindrance. You will easily manoeuver with Survey Junkie.
Survey Junkie is convenient for its members. There are no strict time schedules to observe once you log in at any time. Whether you are in the office or at home, all you need is a gadget with internet connectivity.
A key concern is how you will get your cash after participating in an online survey. The good news is that Survey Junkie has multiple options for paying its members. You have a choice of using PayPal, electronic gift cards, or receiving your cash through bank transfer. Flexibility in payment options is thus a key advantage.
Besides, the payout threshold is low to allow you to withdraw your earnings without restrictions of higher limits. You can withdraw as low as $10 once you earn. Withdrawal of funds is easy and convenient.
Survey Junkie appreciates your time. There are instances where you will be disqualified after starting a survey. Your efforts will not waste; you will earn points for the work done even after disqualification.
Transparency is an edge with Survey Junkie. After participating in a survey, you instantly know how many points you have earned and how much it translates into cash. The reward system is straightforward.
The cons of Survey Junkie
This Survey Junkie review found out shortcomings of the program. The disadvantages include the following:
Survey Junkie is location dependent. Not everyone is eligible to participate. As earlier mentioned in this Survey Junkie review, you can only join if you are from Canada, Australia, and the USA.
There are mounting complaints of random closure of member accounts without notification. The trend is inconveniencing to current and discouraging to potential members. No explanation is given for the closure of your account.
In some instances, you will be sent links to surveys that you don't qualify for. You will innocently participate, only to be disqualified midway. Such becomes a great inconvenience.
The number of surveys available may be limiting at times. The required number of participants gets filled up so fast that you miss out often. Your income earning potential is therefore limited.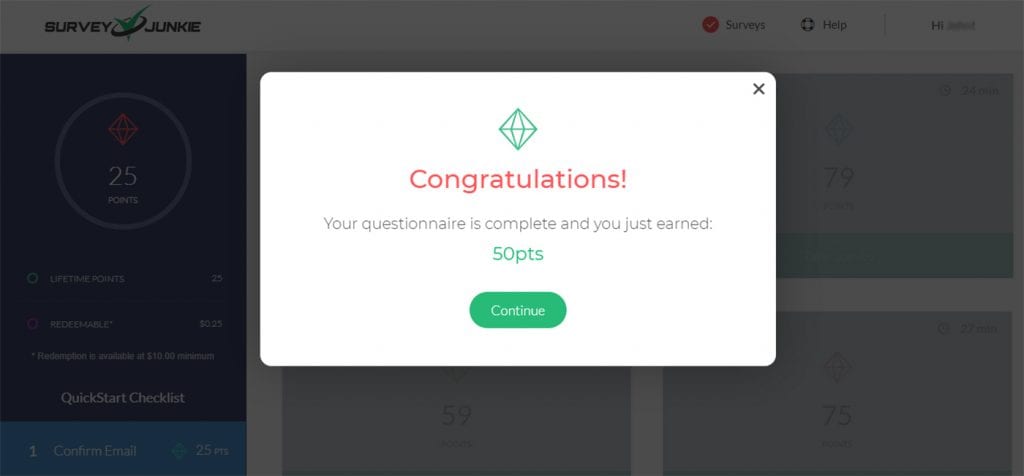 What support system does Survey Junkie provide?
Survey Junkie is an online community boasting of over 3 million members. You can get support from the ticketing system and FAQ section once you log into the system under your profile.
What training or tutorial does Survey Junkie provide?
Once you sign up for Survey Junkie, you will get access to information on their website on how it works. It is a relatively simple guide that tells you expectations of the engagement.
Testimonials or what customers are saying about Survey Junkie
Testimonials about Survey Junkie experience are varying as this Survey Junkie review found out. Of essence, many members acknowledge that it is not a get rich quick scheme. Do not join with an expectation of minting millions. Many members approve of it, though with a concern on the low earnings you can make. There are also complaints from members who have their accounts closed, while others are disqualified from surveys midway. Some also complain of the inability to cash in their earnings using the platforms provided.

The Conclusion of our Survey Junkie Review
Is Survey Junkie worth it? This is a question that many prospective members ask quite often. The fact that you can't mint millions out of it doesn't render it worthless. It is merely a way of making partial income at your convenience. Don't be fooled. It cannot replace your day job, manage your expectations if you intend to join.
Is it worth your time? Honestly, the efforts you put in those surveys is not equivalent to the reward. If online surveys are your thing, you can try Survey Junkie and a dozen of other survey sites. Joining other sites will increase the number of surveys you participate in with an increase in your passive income. The fact of the matter remains; it will not earn you a fortune.